Jump to content by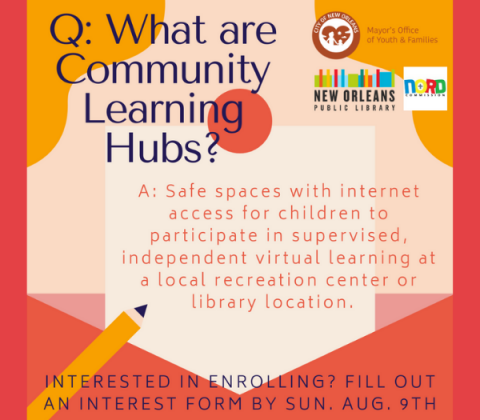 To support students' learning this school year, Mayor LaToya Cantrell plans to launch Community Learning Hubs for children ages 6-18, in partnership with the New Orleans Recreation Development (NORD) Commission and the New Orleans Public Library (NOPL). Learning Hubs provide families with safe spaces for their children to engage in supervised independent learning.
Locations and schedules for the learning hubs will be announced this month after reviewing interest form data. Parents who are interested should fill out the Interest Form form by August 9th or call the Office of Youth & Families at 504-295-5052.
We have compiled reading lists, programs, and resources for all ages regarding anti-racism, systemic oppression, implicit bias, social justice, and how to be a better ally to people of color.
As outlined in our Equity Statement, the Library is committed to providing equitable access to our resources and cultivating an equitable environment for both patrons and staff. The Library unequivocally condemns acts of racism, hatred, and violence, and stands in support of the Black Lives Matter movement and the Statement Condemning Increased Violence and Racism Towards Black Americans released by the Black Caucus of the American Library Association.

A limited number of 45-Minute In-Library Sessions are now available. Reservations are required for each 45-minute session. A face covering/mask is required while inside the Library. Additional information, including available and unavailable Library services, can be found on the In-Library Sessions webpages. Our Contactless Pick-Up & Drop-Off Service will continue to be offered at all locations.
The New Orleans Public Library and Southeast Louisiana Legal Services (SLLS) are pleased to announce the launch of a new virtual legal clinic for eligible Library users. It takes place every 2nd and 4th Wednesday beginning on July 15, 2020. Library users are asked to sign up ahead of time for an appointment to speak with an attorney by phone or video conference. Appointments are limited.